Some Statistical Summary 1998
Thank you for visiting The Web KANZAKI. This site enjoys international access from about a hundred different countries, and visitors use variety of browsers.
ご訪問ありがとうございます。いろいろな地域の方が、いろいろなブラウザを使ってご覧くださっています。
By browser (user agent)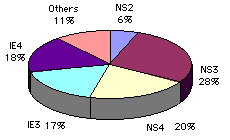 According to some 130 thousands samples in March 1998, about 54% uses Netscape and 35% Internet Explorer, while someone uses Lynx, WWWC, Cyberdog and even "sharp pda browser" (probably with new Power Zaurus). Interesting change from the result in last September. This might help what kind of browser you must have in mind when you write your HTML with device independent manner.
98年3月時点で、ブラウザはNetscapeが54%、IEが35%を占めていますが、Lynxを使っている人やそのほかいろいろです。昨年秋の統計と比べても、どんどん新しいブラウザの普及が進んでいることがわかります。今なら、半数以上がスタイルシート対応のブラウザを使っているというのは、ちょっとした驚きです。その一方で、文字ベースブラウザを含むその他のブラウザが11%あり、やはり機種に依存しないページづくりは大切です。
By country (top domain)
This is the domain stat of The Web KANZAKI from Dec. 1995 to September 1997. Roughly, Japanese visitors and foreign ones are half and half. US access consists of a quarter. Other frequent access countries among some 100 domains include: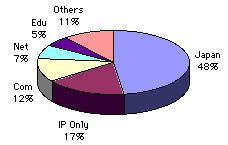 Canada
Australia
United Kingdom
Korea (South)
Non-Profit Organization
Singapore
Germany
Sweden
United States
Malaysia
France
Thailand
US Government
Netherlands
Brazil
Italy
New Zealand (Aotearoa)
Hong Kong
and more ...
1995年12月から97年9月までの累計で、約100カ国からの訪問があります。そのうちおよそ半分は日本、1/4はアメリカです(IP Onlyは204.2.10.8のようにIPアドレスのみ記録されて、ドメインが不明のもの)。いろいろな国や地域の方に読んでいただくことを考えると、これからはlang属性を記述するなどの工夫が必要かもしれません。